Apply now to join the growing group of youth apprentices in Elkhart County!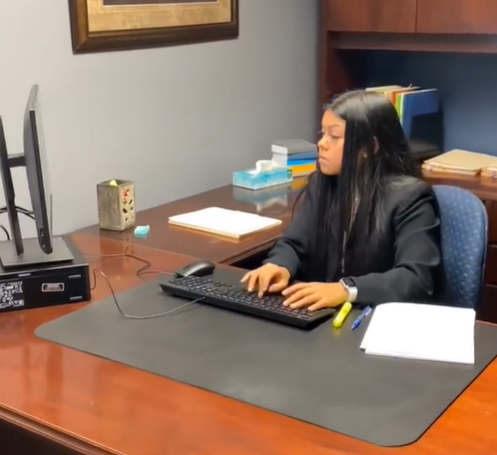 Bianca Jimenez-Ortiz is a busy young woman. As a senior at Concord High School, she participates in National Honor Society and several extracurricular activities as she prepares to graduate. She's also the first paralegal youth apprentice in the nation, working at the Elkhart County Prosecutor's Office.
Bianca is one of the 16 Elkhart County students currently holding a job as part of a CareerWise modern youth apprenticeship, and we at HEA are hoping to recruit more students and more employers to grow this innovative work-based learning program.
Bianca and her fellow apprentices spend half of their day in the classroom and the other half at their place of employment. Apprenticeships aren't internships; apprentices are paid for their work and are considered full employees. They also follow Department of Labor approved plans to develop key professional skills known as competencies, on which they are regularly assessed for school credit as well as pay raises.
Apprentices also have the ability to pursue college credit and professional certifications that give them a head start on their career. This was part of the reason why Bianca decided to commit to her apprenticeship.
"Thinking ahead to the field that I want to go into, I really need to be exposed to different workplace settings so that I get a feel for what it's like to be in a professional setting," Bianca said. "It came down to the fact that this program will help me get the skills I need, the experience I need, even possibly some certifications that I need."
HEA launched CareerWise Elkhart County in May 2019 with three apprenticeship pathways, and welcomed the first cohort of 12 youth apprentices that fall. There are now Department of Labor-accredited apprenticeships available in finance, project management, IT, law, manufacturing, logistics, and other fields, with more in development. This program is one of the first of its kind in the nation, working as a part of the CareerWise USA network, with sister sites in New York City; Washington D.C.; Colorado; Buffalo, N.Y.; and the Upper Peninsula of Michigan.
The young program is also drawing attention and support from around the country. In August, HEA and CareerWise Elkhart County received a $500,000 grant from Bloomberg Philanthropies in New York City to fund the growth of this system of modern youth apprenticeship in Elkhart County.
During National Apprenticeship Week in November, the HEA Student Pathways team held a pair of live online discussion panels about the state of modern youth apprenticeship in Elkhart County. The first was a discussion with Candy Yoder of Community Foundation of Elkhart County and Cindy Grider of Robert Weed Corporation, two local employers who have hired youth apprentices through CareerWise; and John Delgado, Indiana State Director for Apprenticeship at the U.S. Department of Labor. 
The second was a panel with a pair of youth apprentices talking about their experiences so far: Bianca and Jaden Miller, a mechanical drafter apprentice with Independent Protection Company in Goshen.
Students in their junior and senior year of high school have an opportunity to start the application process for an apprenticeship now, with an eye toward starting in the spring or next fall. Students in seventh and eighth grades can also start discussing with teachers and counselors how they can structure their class schedules the next couple of years to be well-positioned to incorporate an apprenticeship into the final two years of high school. 
"We encourage any student who is interested in an apprenticeship to talk with their family, talk with their counselor, start thinking about it as soon as they can," said Breanna Allen, the director of Student Pathways at HEA and the head of CareerWise Elkhart County. "We want to answer their questions and make sure they have what they need to make the right decision for their educational and career journey."
Interested sophomores or juniors should talk with their school counselor to start the process, and can visit careerwiseelkhartcounty.org to set up their profile and begin browsing available apprenticeship positions. The hiring process is much like any job, with a formal application process and rounds of interviews with employers. If students or parents of students in Elkhart County public schools have questions about the process or how youth apprenticeships work, they can contact the HEA CareerWise team at careerwiseec@heaindiana.org.