HEA wins Bloomberg Philanthropies grant to grow youth apprenticeships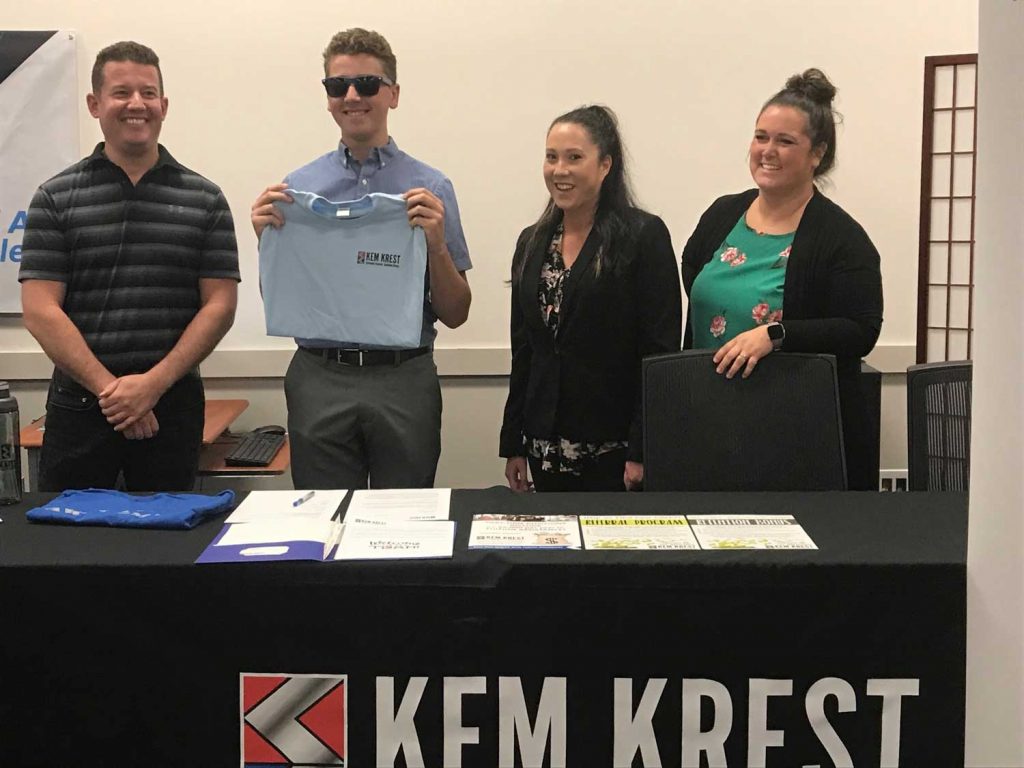 Photo Credit: HEA
Northridge junior Graham Neer (center, wearing sunglasses) celebrates the start of his apprenticeship with KemKrest in Elkhart at the first CareerWise Elkhart County Signing Day event in 2019. On Aug. 3, 2021, HEA announced it had received a $500,000 grant from Bloomberg Philanthropies to grow modern youth apprenticeship programs in the Elkhart County area.
GOSHEN, Ind. — Horizon Education Alliance (HEA) announced Aug. 3 that it has received a $500,000 grant from Bloomberg Philanthropies to support the expansion of high-quality apprenticeship opportunities for high school students – through CareerWise Elkhart County. This grant is part of an overall $2 million statewide investment by Bloomberg Philanthropies to support state and local partners to pilot and scale youth apprenticeship across Indiana, with the Partnership to Advance Youth Apprenticeship (PAYA) – a national initiative led by New America.
This grant, and technical support from PAYA, will allow HEA to convene key partners and stakeholders to build more high-quality youth apprenticeship opportunities; promote greater understanding and evidence of youth apprenticeship's potential as a high-quality post-secondary option for students and a cost-effective talent strategy for employers; and set clear policy priorities and objectives, and identify strategies for advancing those priorities.
Youth apprenticeship allows students to complete high school, start their postsecondary education at no cost, get paid work experience alongside a mentor, and start along a path that broadens their options for the future. For students it is a structured, work-based post-secondary option. For employers, it is a cost-effective talent strategy: apprentices build skills to meet evolving business needs and develop into valued contributors to their employers' bottom line.
CareerWise Elkhart County is offering students opportunities in IT (Computer Technician), Health Care (Certified Medical Assistant), Financial Services (Universal Teller), Manufacturing (Production Technician), Business Operations (Project Coordinator), Education (Teaching Assistant), and Law (Certified Paralegal). 
HEA has supported Elkhart County business leaders and educators in looking at youth apprenticeship opportunities for the past four years. They led a research trip to South Carolina in 2017 to see their statewide youth apprenticeship programs, and then coordinated a trip of 25 local, regional and state business, education and political leaders to Germany and Switzerland in 2018. 
"On those two trips, our cross-sector leaders saw the clear benefits of youth apprenticeships for both students and companies, and everyone was convinced that this was a good strategy to bring back to Elkhart County," said Brian Wiebe, HEA President/CEO.
"Germany and Switzerland both have over 50% of their students going into apprenticeship programs, while in the United States we have fewer than 1%, so we have a long ways to go to catch up," said Breanna Allen, Director of Student Pathways at HEA. "For too long in the United States, our only real strategy has been traditional college, and since this isn't the right fit for every student, we've missed out on these work-based learning opportunities that benefit both students and employers." 
New America announced the formation of Partnership to Advance Youth Apprenticeship (PAYA) in October of 2018. Elkhart County was invited to join its National Network, and in 2019, Elkhart County was one of the first communities, along with NYC and D.C., to partner with CareerWise USA, a Colorado-based initiative that is supporting communities around the nation implementing youth apprenticeship programs.
Graham Neer, an apprentice at Kem Krest in Elkhart, said, "My CareerWise apprenticeship has been more beneficial than anything else I could have done, and I will have two or three years experience in a professional setting right out of school. Other kids won't have that."
Rich Troyer, Chief Learning Officer at MapleTronics in Goshen, said, "Sometimes I hear employers who are concerned that our schools aren't preparing kids for the workplace, but this is a great opportunity to help get them ready. These apprentices will have a leg up on so many others when they enter the job market, and our companies win too, by helping develop strong talent pipelines."
Elkhart County businesses that are wanting to learn more, or high school students wanting to explore CareerWise opportunities, can find more information at http://www.careerwiseelkhartcounty.org/ or contact Breanna Allen, Director of Student Pathways at HEA at ballen@heaindiana.org.
"Youth apprenticeship offers an effective near-term solution with long-term benefits—not only for the students, but also for the employers and communities whose future prosperity will rely on them," said Taylor White, national director, the Partnership to Advance Youth Apprenticeship. "Launching and growing these meaningful experiences demands a partnership at the community level across business and education and it is organizations like Horizon Education Alliance that provide the glue and leadership to make those partnerships work. We at New America are thankful and excited to partner with Horizon Education Alliance and Bloomberg Philanthropies on this important work at this critical moment for young Hoosiers in Elkhart County." 
About Horizon Education Alliance
HEA is a non-profit organization created by Elkhart County education and business leaders. It works together across communities for the betterment of the whole county, and holds the belief that education is the key to unlocking the full potential of all of our people. HEA is building a system for providing world-class education and training to every person in Elkhart County to equip them for a lifetime of well-being and meaningful work. 
About Bloomberg Philanthropies 
Bloomberg Philanthropies invests in 810 cities and 170 countries around the world to ensure better, longer lives for the greatest number of people. The organization focuses on five key areas for creating lasting change: the Arts, Education, Environment, Government Innovation, and Public Health. Bloomberg Philanthropies encompasses all of Michael R. Bloomberg's giving, including his foundation, corporate, and personal philanthropy as well as Bloomberg Associates, a pro bono consultancy that works in cities around the world. In 2020, Bloomberg Philanthropies distributed $1.6 billion. For more information, please visit bloomberg.org or follow us on Facebook, Instagram, YouTube, Twitter, and TikTok. 
About PAYA 
Created by New America, the Partnership to Advance Youth Apprenticeship (PAYA) is a multi-year, multi-stakeholder initiative that aims to assist innovative organizations around the country in developing robust youth apprenticeship programs that are scaled and replicated to serve students, employers and communities alike. PAYA is comprised of eight National Partner organizations: Advance CTE, CareerWise Colorado, Charleston Regional Youth Apprenticeship, Education Strategy Group, JFF, the National Alliance for Partnerships in Equity, the National Fund for Workforce Solutions, and the National Governors Association. PAYA is supported by funding from the Annie E. Casey Foundation, Ballmer Group, Bloomberg Philanthropies, Carnegie Corporation of New York, the Joyce Foundation, JP Morgan Chase & Co., Ralph C. Wilson Jr. Foundation, Siemens Foundation, the Smidt Foundation and the Walton Family Foundation.