Students leap out of comfort zone and grow at Youth Apprentice Interview Day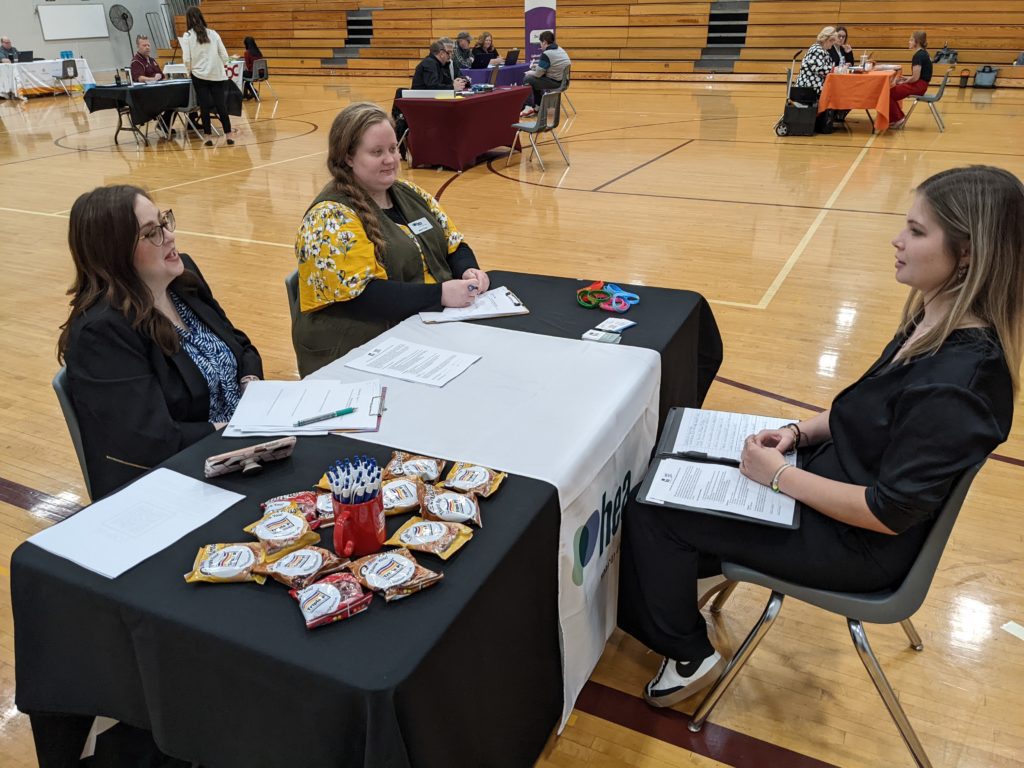 JAMESTOWN (April 21, 2022) – Minutes earlier, a small group of sophomores sat in the bleachers of the Jimtown High School gym. They clutched their padfolios and picked at their suit jackets or skirts, eyeing the 12 interview stations spread out across the basketball court. They gave each other words of encouragement before mustering up the courage to introduce themselves to their potential employers.
Now, one-by-one, they returned to the bleachers from their first apprenticeship interviews with smiles on their faces, exchanging high-fives and hugs.
"You did great, you looked so calm!" 
"I'm so proud of myself, I didn't know I could do that!"
It was a scene that played out dozens of times on April 21, CareerWise Elkhart County Interview Day, as sophomores and juniors from public high schools across the county arrived to interview for positions as youth apprentices with 12 local employers.
Some gravitated toward manufacturing and trades, opting to interview with BD Custom Manufacturing, GDC, Goshen Stamping, Hoosier Crane, Ozinga, and Poly Electronics. Others were more interested in information technology opportunities at Baugo Community Schools and Goshen Health. Some asked questions about two of the newer apprenticeship opportunities available: paralegal at the Office of the Prosecuting Attorney and future educator at Baugo Community Schools. Two nonprofits – Horizon Education Alliance and Cultivate Food Rescue – were popular among those thinking about social service. And those who interviewed with 1st Source Bank always came away smiling and well-informed about the possibility of a teller apprenticeship.
These students hope to join the fourth cohort of Elkhart County youth apprentices in the fall. Once they've accepted a position with a local employer, they'll start working and learning in a professional position with careful guidance from a supervisor, mentor, school counselor, teachers and others. They'll follow an educational path laid out along guidelines from the Department of Labor to ensure the students' safety as well as their ability to demonstrate mastery of defined competencies in their work. They will spend part of their weekdays in the classroom and part at work, exploring career pathways first-hand as high-schoolers in a way most college students won't for several more years.
"These apprentices have an opportunity for a big head-start on their careers and post-high-school education," said Sarah Koontz, director of student pathways and the CareerWise Elkhart County program at Horizon Education Alliance. "They build their professional skills as well as their professional networks before they graduate, which puts them way ahead of their peers."
Many of the employer partners present at interview day already have had apprentices, and are back to continue building their talent pipelines with these eager and enthusiastic students. For their part, the interviewers enjoyed talking to these young men and women about their dreams and aspirations.
"Interviewing these students was such a joyful experience," said Leah Plank, the interim director of Triple P in Elkhart County, who helped interview prospective project coordinator apprentices for Horizon Education Alliance. "They're bright and thoughtful, and they should all be proud of themselves for finding the courage to step out of their comfort zone and explore this opportunity."
The next step is for employers to follow up with their applicants over the next few weeks, and newly hired apprentices will start their professional and educational journey in the fall. To learn more about the CareerWise system of youth apprenticeship in Elkhart County, visit CareerWiseElkhartCounty.org and follow CareerWise Elkhart County on Facebook and Instagram.