Triple P offers virtual support for stressed parents in April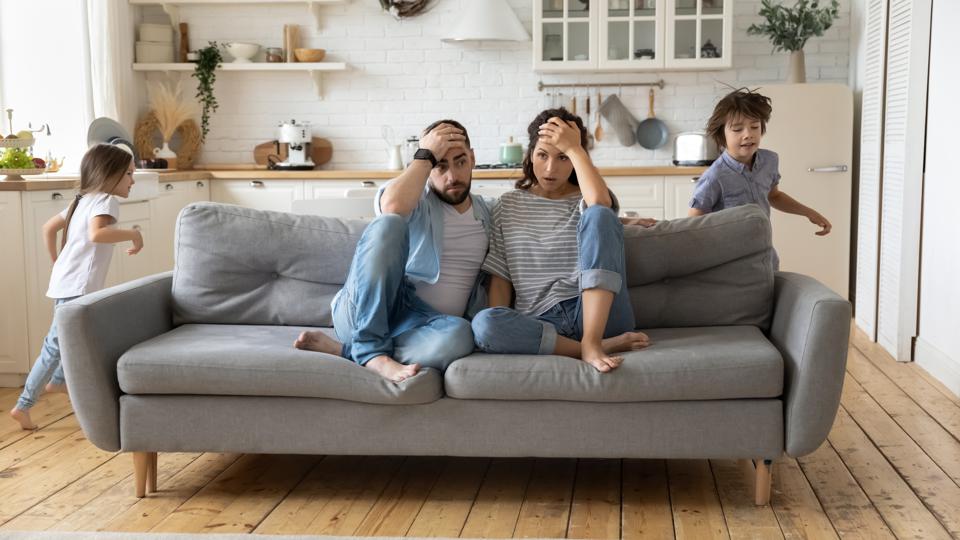 As the COVID-19 pandemic continues, Triple P — Positive Parenting Program — in Elkhart County is offering support for parents online to maintain social distance and keep families safe.
Since the start of the pandemic more than a year ago, local Triple P practitioners have been sharing Positive Parenting strategies and concepts virtually via Zoom gatherings, video calls, and Facebook Live, with hundreds of parents and caregivers of children in the Elkhart County area. Each month in 2021, practitioners have chosen a theme for the presentations they're offering to help parents find support for the particular questions or challenges they're facing.
Focus on reducing parents' stress in April
The theme for April's virtual parent support presentations is reducing parents' stress. For families with younger children, trained Triple P practitioners are hosting hourlong workshops on Getting Kids to Help with Chores (in English) and Dealing Effectively with Disobedience (in Spanish). For families with children and teens, there are presentations on Coping with Stress (in English and in Spanish). There will also be a series of three Stepping Stones workshops for parents who have a child with a developmental disability (English only — this series will be available in Spanish in June; more information to come soon).
These topics will be presented throughout the month in both English and Spanish to accommodate parents and caregivers with different schedules. The topics, dates and times are as follows:
Coping With Stress

3 p.m. Thursday, April 15 (English)
10 a.m. Wednesday, April 21 (Spanish)
Noon Friday, April 23 (English)
6:30 p.m. Monday, April 26 (Spanish)

Getting Kids to Help with Chores

6:30 p.m. Monday, April 19 (English)
10 a.m. Friday, April 23 (English)

Dealing Effectively with Disobedience

10 a.m. Friday, April 16 (Spanish)

Stepping Stones (all in English)

6:30 p.m. Thursday, April 15, Positive Parenting for Children with a Disability
6:30 p.m. Thursday, April 22, Helping Your Child Reach Their Potential
6:30 p.m. Thursday, April 29, Changing Problem Behaviors into Positive Behaviors
Register for any of these events online at ElkhartCountyParents.org (on the events calendar) or by calling 574-226-0160. Either way you register, you will receive an email with a link to join the Zoom call for each webinar or webinars you've registered for. You may also call the same number to find other avenues for support if you are unable to attend these webinars. All of these webinars are offered free of charge.
Contribute to the future of Positive Parenting
To keep these services as accessible as possible to the greatest number of parents and caregivers in Elkhart County, we invite you to join us in contributing money. Your support will keep our practitioners delivering Positive Parenting to local parents during a time of extra stress and challenges brought on by the COVID-19 pandemic. Help us by giving financially or helping open doors for us to meet like-minded community members to boost Triple P at this critical time. Your investment matters!
For more information on how you can invest in Triple P please contact: Brian Wiebe, President/CEO at bwiebe@heaindiana.org or (574) 970-5820, or visit the Donate Now link at HEAIndiana.org. Thank you!
About Triple P
The Triple P – Positive Parenting Program's simple practical strategies have been proven to work around the world, helping parents manage everything from toddler tantrums to teenage rebellion. And, it's low-cost or free for parents of children up to 16 years, including support for parents who have children with disabilities.
Thanks to decades of rigorous and ongoing scientific research, Triple P is now regarded as one of the world's most effective parenting programs. In fact, the United Nations ranks Triple P as the number one parenting program in the world, based on the amount of research and evidence behind the program.
Founded in Queensland, Australia, Triple P is used in countries all over the world, including the U.S.A., England, Ireland, Scotland, Wales, Canada, Australia, New Zealand, South Africa, Belgium, Japan, Iran, Singapore, the Netherlands, Germany, Curacao, Romania, Switzerland, Austria and Sweden. It's been translated (from English) into another 21 languages and is estimated to have helped more than four million children and their families.
Specialist Triple P programs also continue to be developed, tested and implemented. These include Stepping Stones Triple P (for parents of children with a disability), Lifestyle Triple P (for parents of children who are overweight), Family Transitions Triple P (for parents going through divorce or separation) and Indigenous Triple P (for Indigenous families).