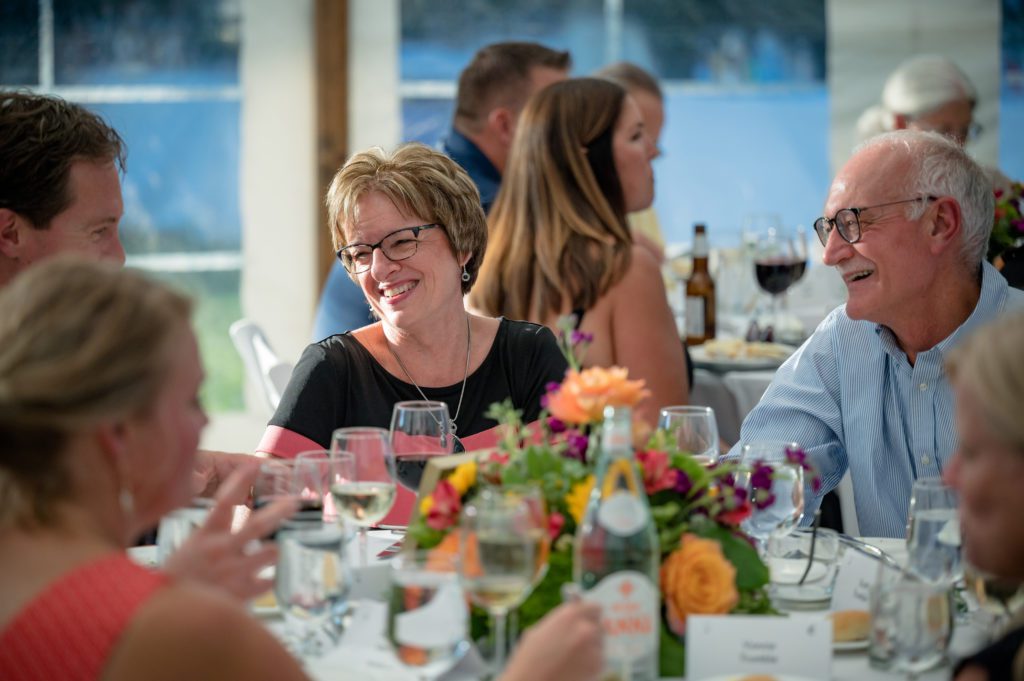 Remember what it feels like to be at a "good wedding?" Not so much a perfect, movie-quality wedding – rather, a happy real-world wedding, a wedding of people who matter to you, a wedding you want to be there for. Ever been?
I had that feeling at HEA's 10 Year Anniversary Celebration on Sept. 8 at Elkhart's Wellfield Botanic Gardens. The "good wedding" feeling included warmth, happiness, and especially a strong feeling that the attendees were saying, "This is right!" – the way a community would at a wedding for people everyone knows were just meant for each other. In this case, it was an affirmation that HEA is right for Elkhart County.
I was not alone in this reaction. Others noted the beauty of the setting: the Gardens are so inspiring, and the floral arrangements for the many tables were spectacular! They also noted the unusually diverse crowd (check out the photo gallery below this blog entry) and said that this isn't the typical turnout for a not-for-profit event. Since I had worked with most everyone there – either directly or nearly directly – it felt like a gathering of treasured friends. "As you'd have at a wedding," a long-time HEA staff member observed.
Of course, it was like a wedding while not actually being a wedding. Nobody got kissed, no vows were spoken, no rings exchanged.
But let me turn that around: it wasn't a wedding, but it was like a wedding in profound ways. I think of my own wedding with Brenda a few decades ago – or was it just yesterday? It was extraordinary to have so many people from all walks of life in attendance for no other purpose than to witness, validate, and support our exchanging of vows. The HEA event had that!
We didn't ask for money, as almost always happens at a not-for-profit event. But this was a celebration! You don't ask for cash at a wedding. (And some generous supporters handled the "parents of the wedding couple" responsibility for all costs.)

A

bunch

of people turned out for a celebration. We were thinking maybe 250 would attend, but closer to 400 showed up to help us mark this 10-year milestone. As with a wedding, it's always this welcome surprise when people you didn't expect to attend actually show up – it says that you've touched their lives more than you realized.

People came from all across Elkhart County, which is part of why I had the warm feeling: we're known, accepted, and valued throughout our cities and towns.

People also came from all walks of life. "Education" is our middle name, but it wasn't just a gathering of educators – there were also leaders from business, manufacturing, the legal profession, social services, religious organizations, government, and lots of "regular folks" in those areas and more. All those people witnessed, validated, and supported HEA's mission.

People enjoyed themselves! Energetic conversation and lots of laughter carried us through the gathering and into the meal. People responded enthusiastically to our short video about HEA. I especially loved the significant applause when the "stars" of that video were asked to stand: these were the people for whom HEA had opened new doors, and the ones who had shown the courage to step into these new opportunities.
I mentioned faith leaders a moment ago. They will tell you that a wedding celebrates a "covenant" more than a "contract." A quick differentiation of the two: a contract is a 50-50 deal, and you are obligated only as long as your partner holds up their end of the bargain. A covenant is a 100-100 deal, where you give everything you have to give, without concern for what the balance is.
Of course, a wedding isn't the end of the story, it's the beginning. We look forward to channeling the energy from this "100-100 covenant" experience to bring even more progress to our mission. We already have a strong history of achievement. (Have you watched the video? It's 14 minutes, and here's the link.) We have significant projects under way, including initiatives like Triple P – Positive Parenting Program, CareerWise Elkhart County youth apprenticeships, Adult Pathways programs, and then a new, community-wide commitment to Early Childhood. This Early Childhood project kicks off with a significant community gathering on November 1. Save that date and watch for more posts on this "Transformed" blog in the weeks ahead!
It will be exciting to see how the next 10 years unfold. How will our individual communities and our larger "county community" work together toward improving the lives and futures of our constituents? While we didn't ask for money (as noted above) at the celebration, I did suggest that this was a "time, talent, and treasure" moment: let's engage together in the HEA vision, even as each person determines their own appropriate contribution. 
Back to my original metaphor: I'm guessing that just after most weddings, there is a moment where the new couple makes eye contact, maybe a little glassy-eyed contact, a little stunned by it all. They're maybe thinking some combination of:
What have I done?

This is so right!

What will happen next?

Who is this person?

I couldn't be happier!

Will we really hang in there with each other?
And then the smiles come as they realize the answer to the last question: Yes!
Elkhart County and HEA face all those questions as well, including "Will we really hang in there with each other?" Our extraordinary celebration, and the extraordinary people who were part of it, allow us to offer the same happy, confident answer:
Yes!
Brian Wiebe is the President/CEO of HEA