Meet HEA's newest employees in Student Pathways and data analysis!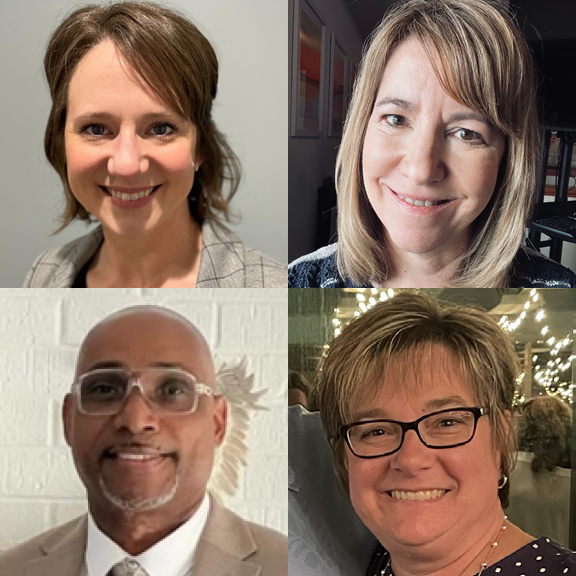 Horizon Education Alliance recently welcomed four new employees to assist with growing programs, analyzing data, and managing new grants. 
Collaboration and partnership are at the core of everything HEA does, and as you read about the newest additions to our team, you'll see that theme again and again. In some cases, you'll see how they had been part of HEA projects before, and decided to deepen that relationship to our work of bringing our community together to increase opportunities for education and training at any age.
Meaghan Bylsma
Meaghan is the new Data and Evaluation Manager. She works closely with Dr. Aliah Carolan-Silva, our VP of research. She has been married to her husband, Andrew, for over 15 years. They have two children: Ellis, who is 6; and Asher, who is 3. They also have a 10-year-old mixed pup named Rocky (or sometimes Rocky-Boy). A fun fact about their youngest, Asher, is that he was born in the car on the way to the Goshen Birth Center, which was only about 2.5 miles away from their house at the time. Andrew ended up delivering him on the side of the road at a time when everyone was trying to get to school! 
She saw the Data and Evaluation Manager position online and then she looked further into HEA. She said the position and the organization were everything she was looking for. She loves that HEA is driven by collaboration, evidence-based practice, and data. She also loves that our core values are aligned with hers. Meaghan's husband told her he thought HEA would be a perfect fit for her because of the great work in the community. Being able to do meaningful, impactful work in our community is a critical piece for her, so there was no more convincing that needed to happen during the interview process. 
Thus far, she feels that things could not be going any better. Every day she has things big and small that make her happy to be a part of the team and the larger work of the organization. 
HEA as an organization, its staff, partners, its focus, and the way it operates are all inspiring to Meaghan. She looks forward to continued inspiration and maintaining the drive to grow, learn, and collaborate to reach our common goals. 
"There is something so thrilling about being a part of this team; a team that values not only the wellbeing, growth and success of our community, but also that of its staff," she said. 
She feels that this permeates through every aspect of HEA from the mission to our work to the day-to-day of doing business. That's a feeling she looks forward to having for a long, long time!
Michelle Kercher
Michelle is one of our new Pathways Grant Managers at the Primary level, K-6. She has been married to her husband, Steve, for almost 25 years. They have two daughters and one son. Their oldest daughter will be graduating from college in the spring, their son is a freshman in college and their youngest daughter is a junior in high school. Her family loves to travel to tropical locations with their favorites being Jamaica, the Dominican Republic, and the Florida Keys. They are always up for a new adventure when they travel. 
Michelle has been active in the Goshen and wider Elkhart community in many capacities over the years with her path often crossing with HEA's. Last fall, she received an email with the posting for a variety of positions at HEA. In particular, she noticed the Curriculum Coordinator and the Pathways Grant Manager positions due to her background in elementary education. She informed me that her job has a learning curve, but she enjoys the new challenges which take her outside her comfort zone, teaching her new Ideas.
So far, she has really enjoyed her position. One of her biggest goals has always been to leave the community where she grew up in a better place. The position at HEA allows her to be involved in the business community as well as local education. She is able to work with people from several of the local school districts and she's able to introduce community partners to what is happening in education and how they can make a difference in the lives of students.  
Michelle looks forward to creating a sustainable and meaningful "Exploration, Engagement, Experience" (or 3E, the name of the grant funding her position) for students to better learn what opportunities are available to them in our community and beyond. She informed me that someone once described her as a builder of programs, which was a compliment to her because her father was a home builder. She hopes to build pathways for local students to reach their goals successfully.
Miranda Cripe
Miranda is our new CareerWise Partnership Manager. She is married to Rod, and they are coming up on their 35th wedding anniversary in April! She has two adult children: Brooke, who is 21; and Ben, who is 24. She and her husband also have two grand dogs, Apollo and Obi. 
She had collaborated with HEA at her previous position as the HR Manager at Essenhaus in Middlebury before coming to HEA in this role. She was looking for something new, and it's important to her to work with an organization that has values and missions similar to hers. HEA met those expectations! 
She feels strongly about the collaboration between educators and businesses as she had been working with Northridge High School within their work-based learning program. She is still learning the ins and outs, but feels that everything is starting to come together. She had a very warm welcome from all the HEA employees.  
She looks forward to "helping to move the youth apprenticeship program forward, getting the word out, and getting more employers involved so that it is a normal part of their hiring process and not so foreign or scary." She would also like to get more familiar with all of the programs of HEA and their associated staff and partners. 
Miranda is the President of the Middlebury Town Council where she has served for six years. She also likes collecting and reading cookbooks! 
Jeffrie Hunter
Jeffrie is also one of the new Pathways Grant Managers at the Secondary level, grades 7-12. In September, he and his wife, Maria, will have been married for 24 years! They have one child who is 19 years old. Recently, Jeffrie has had a desire to cook vegetarian meals. He has been enjoying using his creativity to craft different meal combinations, mainly of his own design!
"It has pleasantly pleased my wife and even my son is trying some of the creations," he said. Some of the dishes he has made are penne pasta, vegetable delight, and ABC breakfast casserole. He is looking forward to making more in the near future!
While job searching, he came across a few positions at HEA that he was interested in. He thought the Grant Manager job with Student Pathways would be a great extension from his former position and afford him more opportunities to contribute to the community and make a difference. He loves his job! It allows him to be creative, strategically plan, organize, and work with great people. 
"HEA has great staff with great skills, and we major in collaboration and teamwork," he said. "I appreciate how we all lean into processes together, expecting the best outcomes!"
He expects local students to realize opportunities and take advantage of them for their future. He is expecting to help develop a clear set of career pathways that will incentivize students to complete their education with career goals through a work-based learning experience. He says it's also great to realize opportunities for the schools, businesses, and the community to work together! He expects HEA to reach its goals in Student Pathways and move forward with other projects that continue to build on futures, careers, and opportunities for young people as well as lifelong learners.
By Brenna Slaight
Assistant Project Coordinator Apprentice
Triple P in Elkhart County