Welcoming our new board members for 2023: Dr. Breanna Allen and Rebecca Shetler Fast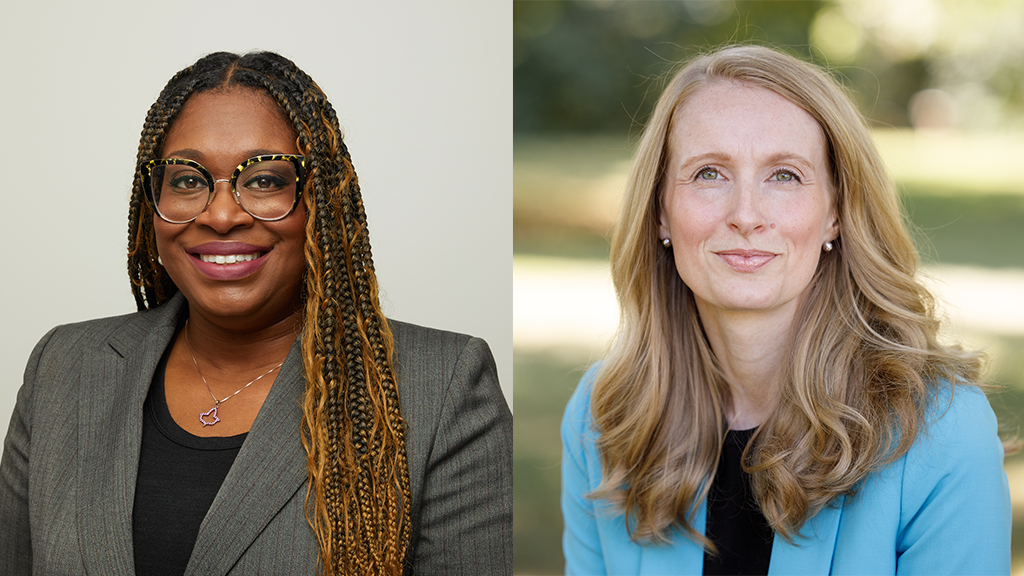 Since the start of Horizon Education Alliance in 2012, the board of directors has been the backbone of our success, guiding our organization as it establishes partnerships and initiatives in the community to make Elkhart County a better place to live, learn, work, and play.
We are a more established presence in the community now, after 10 years, than we were in the early days, but our board remains a crucial tone-setter for our work. At the first HEA board meeting of 2023 on January 30, we welcomed two new members to this talented and dedicated group.
Dr. Breanna Allen
First, we welcome Dr. Breanna Allen, the executive director of the Tolson Center for Community Excellence in Elkhart to the HEA board. Breanna comes to the board with quite a bit more knowledge of HEA's work than most: She is the first former HEA staff member to become a board member! Breanna worked at HEA for nearly four years in Student Pathways, rising to the position of Student Pathways Director before being appointed to the Tolson Center position last year. 
This year, the HEA governance committee worked on ways to help new board members orient themselves to our systems-thinking approach, including pairing each new board member with a mentor on the board to answer questions and help build relationships more naturally among the members. Breanna's mentor is governance committee chair Dr. Becky Stoltzfus, the president of Goshen College. Breanna also has an academic background as an adjunct professor and former faculty at Ivy Tech Elkhart-South Bend.
Q: Why did you decide to join the HEA board?
A: HEA is near and dear to my heart. As my first introduction to nonprofit work, HEA showcases a high standard of what it means to impact a community. Looking at challenges that impact all people through our education and workforce systems and working towards collective solutions is not an easy task. I joined the board because I believe in building a system that provides world-class education and training and want to be a part of that impact.
Q: What is your favorite memory related to learning and education?
A: My favorite educational experience was traveling to Switzerland with HEA team members, educators, employers, and others to learn about that country's vocational education and training system that supports young people as they join the workforce. It was an eye-opener to see young adults ages of 15 and 16 working during the day contributing to their business employer. This model is a systematic model with support from all sectors that can change lives and I spent 10 days learning about it. I was overwhelmed, amazed, and energized about the possibilities of something like this back home, in my community.
Rebecca Shetler Fast
We also welcome Rebecca Shetler Fast, the CEO of CAPS – Child and Parent Services in Elkhart, to the HEA board. Like Breanna, Rebecca has some experience working with HEA: She has served as a community member of the board's impact committee since its founding more than five years ago, providing advice and guidance about measuring the efficacy of community programs and analyzing data.
Rebecca is also fairly new to her position at CAPS, having started there in September. She previously served as the Director of The Source, Elkhart County's System of Care, based at Oaklawn, for nearly three years. Previously, she and her husband, Paul, worked with the Mennonite Central Committee in Haiti for more than four years. Rebecca was the director of the committee's humanitarian relief and development activities across Haiti.
Rebecca's board mentor is a familiar face for her: Oaklawn CEO Laurie Nafziger.
Q: Why did you decide to join the HEA board? 
A: I have tremendous respect for HEA's collaborative and forward-looking vision – ensuring that everyone in our community has the opportunity to achieve well-being and meaningful work!
Q: What is your favorite memory related to learning and education?
A: Last week my 6-year-old daughter, Madeline, triumphantly announced that she was now ready to tuck in her 5-year-old brother at night because she could read his bedtime stories to him!