National Apprenticeship Week 2023: Elkhart County is a national leader in youth apprenticeship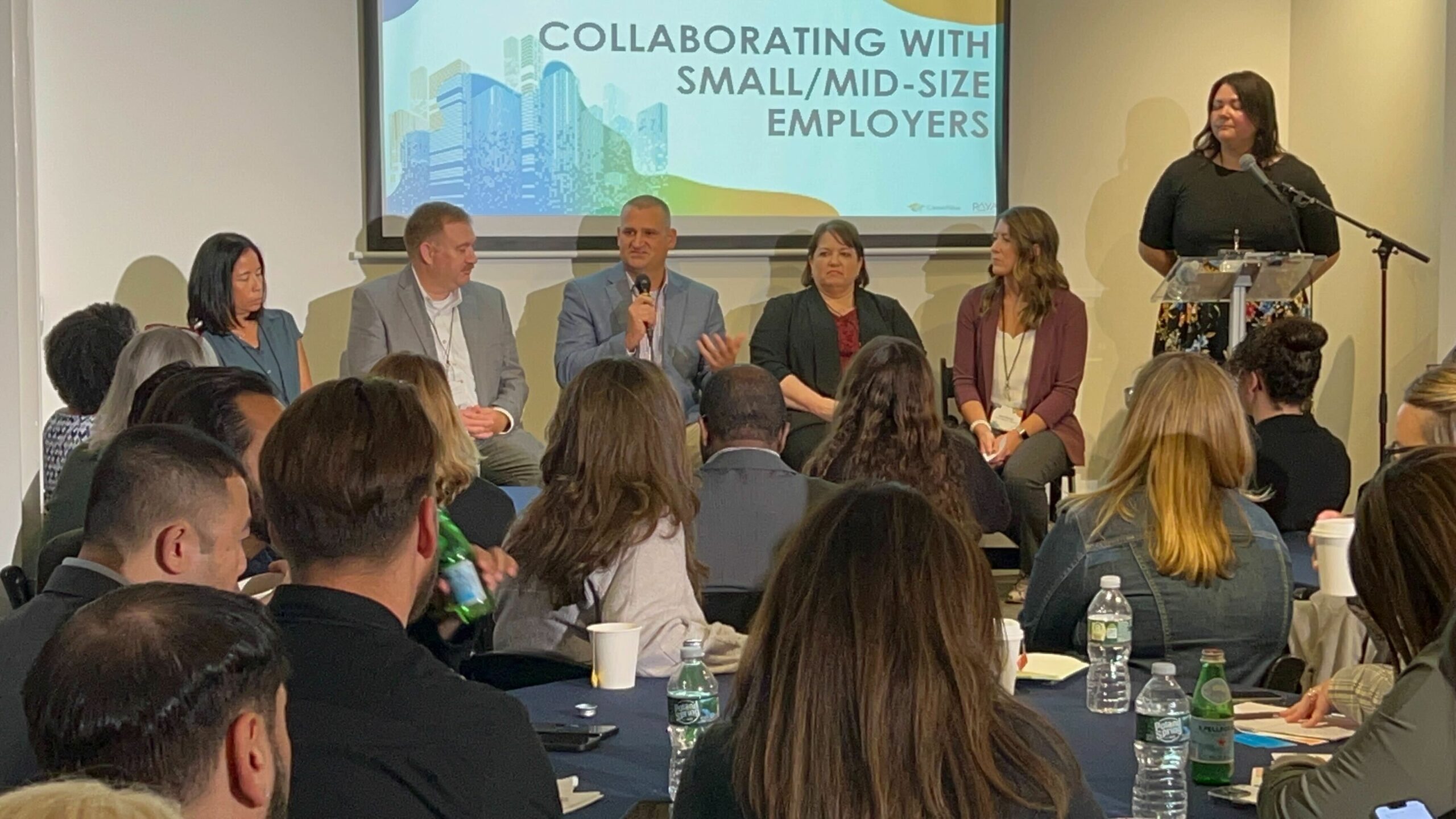 For Elkhart County, National Apprenticeship Week, Nov. 13-17, is a time to celebrate how quickly the modern youth apprenticeship movement has flourished in our community.
When Horizon Education Alliance started its CareerWise program for modern youth apprenticeship in 2019 with 13 local high school students signing on with local employers to kickstart their careers while advancing their education, it became the first program of its kind in the state. Modern youth apprenticeship gives students in their final two years of high school the opportunity to start a career in one of dozens of career pathways – from construction and manufacturing to project management and paralegal and many more – while earning credit toward high school graduation and other educational goals set by the student as part of their learning plan.
In October, CareerWise Elkhart County program staff, HEA's CEO, and a group of local employers – Hoosier Crane, the Office of the Prosecuting Attorney, and Goshen Health – went to the National Youth Apprenticeship Summit hosted by CareerWise USA and PAYA in New York City representing one of the leading youth apprenticeship communities in what is now one of the leading youth apprenticeship states across the country. Our delegation was invited to be part of a panel presentation on establishing youth apprenticeship programs at small-to-midsize employers, sharing stories of our success with professionals from around the United States.
The story behind those successes, as we find time and again in HEA's work, is collaboration: educators working with employers, employers working with the Department of Labor, students and their families learning about these opportunities from school counselors and teachers, and the CareerWise team at HEA providing support across every stage to every partner, student, and family. Since 2019, this is the story that has made our community a national leader in modern youth apprenticeship.
"The founder of CareerWise in Colorado, Noel Ginsburg, talks about modern youth apprenticeship as a movement," said Sarah Koontz, director of CareerWise Elkhart County, "It's a strategy for businesses as they find creative ways to fill build their pipeline of talent for the future. We see the success students and employers have with this program, and we know from countries like Switzerland and Germany that it can work on a national scale. We are already doing things others can point to and say 'they are showing us the way forward.'"
For Todd Cook, COO of Hoosier Crane, the story has been about creating lasting connections to the future leaders of his business. Cook was one of the local employers who joined our trip to New York to represent the success of CareerWise Elkhart County, speaking as a panelist during the presentation on apprenticeship programs at small-to-midsize employers.
"Before, we would typically get interns every year," Cook told the attendees of the panel. "And they're great students, but they're going to be a dentist, or they're going to be something else. And we don't have openings for dentistry [at Hoosier Crane], we're an industrial manufacturer. We're getting opportunities now to interview 'interns,' or apprentices, who are going to be long-term employees. To me, that was an easy sell."
And it's not just a benefit to his company; he takes pride in being able to provide a special opportunity to help young students start their careers in a positive, supportive environment.
"We've enhanced our 'internship' program to provide more value for our apprentices," Cook said. "The value the apprentices get from Hoosier Crane, from our staff, has only grown."
There are now more than 50 total apprentices who have participated in CareerWise Elkhart County, including those who have completed their three-year programs and earned journeyman's certificates of mastery in their apprenticeship field, usually while also earning credit toward college degrees and other certifications, as well as graduating high school and earning a paycheck (and getting raises for growing their skills) as they go.
Three local communities have issued proclamations dedicating this week National Apprenticeship Week: Bristol, Elkhart, and Nappanee. HEA and CareerWise Elkhart County will be sharing more stories of apprentices and employers who are growing the youth apprenticeship movement right here in our community. Keep an eye on HEAIndiana.org as well as HEA and CareerWise Elkhart County on Facebook, LinkedIn, and Instagram.