Mario Garcia – A Modern Youth Apprentice success story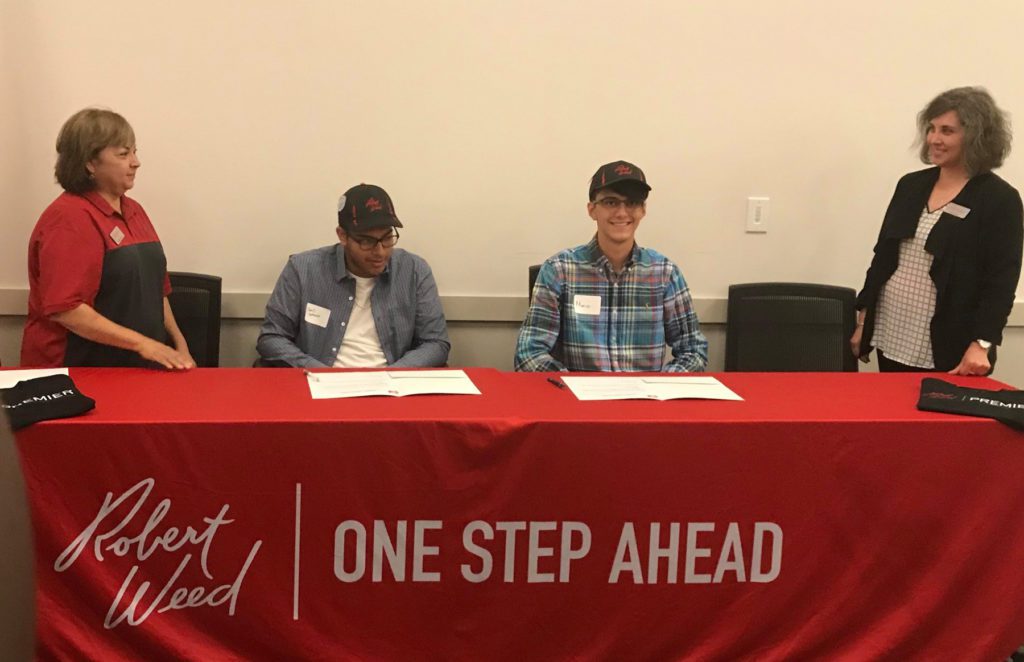 Photo Credit: HEA
Elkhart junior Mario Garcia (sitting, right) celebrates the start of his apprenticeship with Robert Weed Corporation in Elkhart at the first CareerWise Elkhart County Signing Day event in 2019. Garcia is now in the third and final year of his apprenticeship with Robert Weed Corporation.
Developing — and keeping — local talent through registered youth apprenticeships.
ELKHART, IND. — Mario Garcia was a student at Elkhart High School in Indiana when he accepted his registered CareerWise youth apprenticeship at Robert Weed Corporation as a computer technician in 2019. Currently, he's in his third year of apprenticeship, working 30 hours a week at Robert Weed Corporation while he takes college courses in computer science at Ivy Tech. 
Robert Weed Corporation is an advanced manufacturing company that designs and manufactures high-pressure laminate (HPL) products  and distributes raw materials nationwide. The company is committed to apprenticeship with three of the original apprentices through CareerWise Elkhart County on staff. Cindy Grider, director of human resources, believes "apprenticeship is a part of our long term staffing strategy" and apprenticeship is an important strategy to keeping talent in Elkhart County through career exploration and training. "Our high-potential talent is leaving for other opportunities outside of the community and they never come back. Youth apprenticeship is crucial for long-term economic development in the area." 
Mario works in all aspects of the IT department at Robert Weed. "But my favorite projects involve helping people upgrade their systems. I went to everyone in the company to help them upgrade their computers from Windows 7 to Windows 10 as Windows 7 was becoming obsolete," said Mario. "I knew I wanted to go into IT, but didn't know what area. With projects ranging from an application migration that took six months, to upgrading our help desk tracking system, my apprenticeship has really helped me figure out what kind of career in technology I'm going to pursue."
Mario was Robert Weed Corporation's first registered youth apprentice, and marked the start of a new program for the company that contributes to its community as well as its workforce objectives. "Apprenticeship aligns with Robert Weed's value of pouring learning and career exploration into the next generation," said Cindy.
Gerry Thompson, director of information technology and Mario's supervisor at Robert Weed, said "I'm committed to making sure that Mario has the proper training for the job, so we work closely together with Ivy Tech to align his classroom and on-the-job training." Gerry noted that Mario recently completed his Six Sigma Greenbelt training. "Mario has an eagerness to learn and dig in. That's what you need in the technology field."
Mario plans to finish out his three-year apprenticeship and see if there is an opportunity full-time with Robert Weed.