Adult Pathways given Indiana Program of Excellence award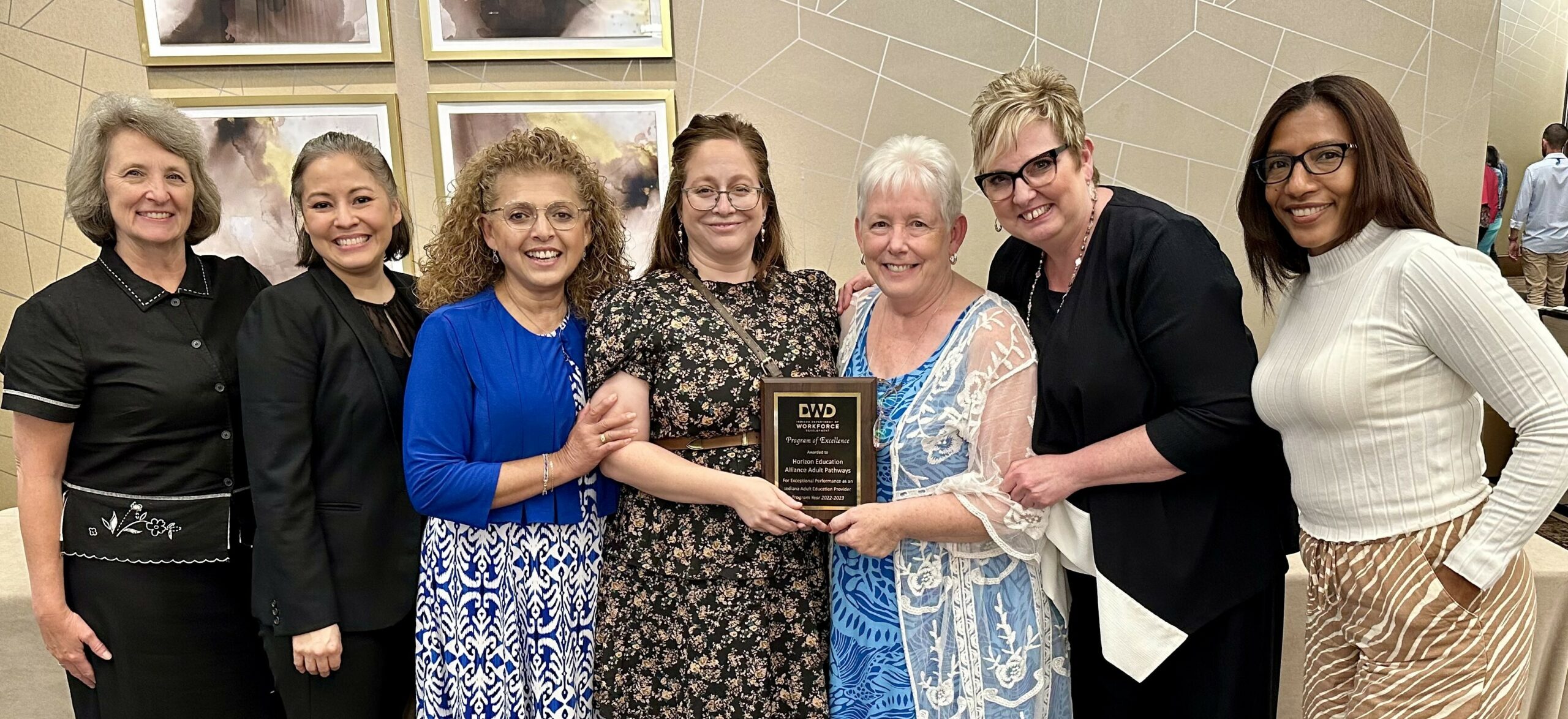 The State of Indiana Department of Workforce Development recently recognized HEA Adult Pathways as one of its first Programs of Excellence in advancing adult education and training at Indiana's Association of Adult and Continuing Education Conference.
Of the 56 adult education providers statewide, 17 sites were honored and are considered model providers of adult education services. Staff from HEA Adult Pathways attended the statewide conference and received a plaque with the Program of Excellence designation. The award was created to recognize adult education programs that "exceed state goals and expectations in multiple areas of performance and serve as a model provider of adult education services in Indiana."
"Thank you, Horizon Education Alliance, for your exceptional work in supporting adult learners as they achieve their goals and improve their educational and economic opportunities, bettering their lives, families, and communities," said Richard Paulk, commissioner of the Indiana Department of Workforce Development, in a letter.
Statewide, 10.4% of Hoosiers age 18 to 64 lack a high school diploma or its equivalent. In Elkhart County, that number increases to 18% of the county's population. In the last year, HEA adult programs have served nearly 500 learners in the community, with 173 currently enrolled in the High School Equivalency diploma online program, (three earning the diploma in Spanish), 108 earning advanced certifications including Certified Production Technician and Certified Logistics Technician, 263 completing English Language Learning courses, and 10 participating in adult literacy programming.
HEA's team excels because it serves the needs of its adult students and is continually developing strong partnerships in the community, according to Barbara Stith, senior director of HEA Adult Pathways.
"Working with our partners – Goshen College, the Elkhart County Jail, Elkhart Community Schools Community Education, Tolson Center, and Ivy Tech Community College, as well as area businesses such as Wieland Designs and Recreational Vehicle Technical Institute, to name a few — is vital for the success of our students," Stith said. "We could not do what we do without them!"
If you would like to learn more about HEA's Adult Pathways offerings or learn how to start your educational journey, contact us in English or Spanish at 574-970-5820 or email Anabel Bruner at abruner@heaindiana.org.